Posted by Steve Mower on 8th Feb 2017
We have just released the new New Kodak Total Blue 1.6AR lenses as an option on all of our full frames.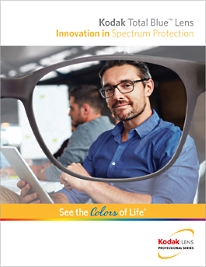 This is a new hybrid blue block lens from Kodak. It is twice as effective as our Mojo and Apex BluBlock AR lenses. They include:
1.6 high index lens material with a special monomer built in that filters blue light.
A special front side anti-reflecting coating that reflects off blue light.
A standard AR coating on the back to reduce glare and to keep blue light from reflecting back into your eyes.
Clear lenses. No Tint. No color distortion.
Scratch resistant, and hydrophobic coating.
Very thin and light.
100% UV protection.
80% high energy visible (HEV) blue light protection.
These hybrid lenses protect your eyes from high energy visible blue light to ~445nm, similar to our Mojo BluBlock Night Yellow, Day Amber and Day Brown tints.
This lens option is $80.00 and is available on all of our full frames. (Not rimless or semi-rimless). This is the absolute best blue block AR lens we have seen. While the $80.00 price is high compared to our other options, it is very low compared to what optical shops are charging. (~$250.00 and up!)
It is available in powers from zero 0.0 to +4.00 or in prescription lenses for distance, reading, or computer.
Go here for more information and a video- Kodak Total Blue 1.6AR