Posted by Steve and Rhonda Mower on 11th Nov 2015
Introducing our new APEX BluBlock AR-T Lens Option!
APEX BluBlock AR-T (AR+Tint) is a new lens add-on or option that has a light 1% Amber Tint plus a Blue-Block Anti-Reflective Coating. The blue block AR coating works just like the coating on our Mojo BluBlock AR but the additional amber tint provides a bit more contrast.
Both the APEX BluBlock AR-T and Mojo BluBlock AR are $25.00 add-ons and are available on all of our full frame single vision reading glasses.
Features:
Very thin aspheric polycarbonate. (We cannot put them in rimless frames)
1% Amber BluBlock Tint for improved contrast.
BluBlock AR Coating reflects off bad blue light to 470nm letting beneficial blue light through.
UV400 ultra violet filter
Scratch resistant coating
Hydrophobic coating
So our blue block options are now Mojo BluBlock AR (clear), APEX BluBlock AR-T, and Mojo BluBlock Tints.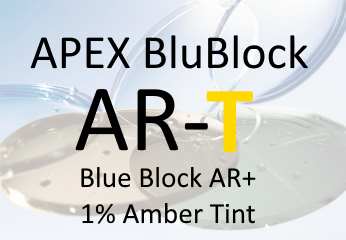 Shop now in Men's Reading Glasses or Women's Reading Glasses