First time shopper here at Reading Glasses Etc?
We offer custom reading glasses and prescription eyeglasses. We have many frame styles and lens options to choose from. We don't sell cheap pre-made readers. All of our glasses are made to order.
What Are Custom Reading Glasses?
We offer you the ability to customize or configure different reading lens types in over 2800 frames. It's very affordable and allows you to get reading glasses that meet your particular needs. Instead of limiting yourself to pre-made cheaters you can get optical quality glasses in the frame style and size that you want.
HOW TO BUY CUSTOM READING GLASSES
SELECT A FRAME CATEGORY TO START:
Use our navigation menu and select a main category.
USE OUR FRAME FILTER:
Narrow down by:
Brand
Frame Type (Full Rim, Rimless, Folding...)
Size/Fit (Medium, Medium Large...)
Bridge Width
Frame Color (Black, Tortoise...)
Frame Material (Metal, TR90...)
Frame Shape (Round, Rectangle...)
Special Features (Ultra-light...)
and more.
NOTE: Full Rim frames have all of our lens types and lens options. Other frame types like Semi-Rimless have limited lens options.
See our FRAME GUIDE for more information.
Once you find your frame, Choose a Lens Type and Reading Power:
Step 2. Choose a Lens Type and Configure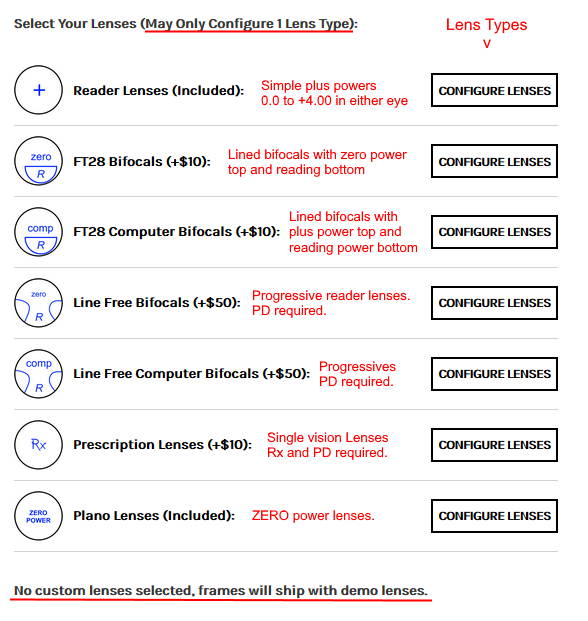 On the frame page click the Configure Lenses button next to the lens type you want. Powers and lens options vary depending on the lens type chosen. The best way to explore these options is to go to a frame page like this one:
Click the CONFIGURE LENSES button next to each lens and explore the power and lens options.
FOR MORE INFORMATION SEE: READING LENS GUIDE
Step 3. Choose a Lens Option
Lens Options include features like lens tints, anti-reflective coatings (AR), and Photochromic/Transitions. Each Lens Type offers different Lens Options.
If you do not want a lens option, select No Options from the drop down menu or just add your glasses to the cart.
LENS TINTS - Cosmetic and BluBlock lens tints are available in all lens types.
AR COATINGS - Standard AR coatings are available in all Lens Types. BluBlock AR lenses are only available in Reader Lenses. Mojo BluBlock 1.6 AR and Kodak Total Blue 1.6 AR are only available in Full Rim frames.
PHOTOCHROMIC LENSES - Available in all lens types.
MORE INFORMATION: READING LENS GUIDE
MORE INFORMATION: BLUE BLOCK GUIDE
Here are a few tips for finding the right frame:
Style: Full-Rim frames have all of our lens types and options. Slim styles and rimless have less lens types. If you want bifocal lenses, select Full-Rim.
Frame Size/Fit: Getting the correct size is important. The Frame Size/Fit is the general width of the frame from small to extra large. The size is the optical measurement across one lens in millimeters (mm). Optical sizes appear like this: 49-19-135. Eyesize-Bridge Width-Temple Length. Search first by Size/Fit. Then search by Bridge Width. (If you wear glasses the frame size is imprinted on the inside of one of the temples.
Frame Materials: We offer more than just basic metal or plastic...
Metal frames usually come with adjustable nose pads:
Metal - Usually a nickle alloy. (Some people have nickle allergies.)
Stainless Steel - Light and durable and Nickle free.
Titanium - Very light and very durable and hypoallergenic.
Duralumin - Made of aluminum alloy, copper, and precious metals such as silver. It is very durable, light, and hypoallergenic.
Plastic frames come in different materials too and can have nose pads or not. Some acetate frames come with adjustable nose pads or AF/UF pads. AF/UF pads are extend back further to fit people with flat bridges..
Acetate - Of the plastic frame materials acetate is comparatively heavier. It is a hypoallergenic material.
TR90 - A very lightweight, very durable and hypoallergenic material. These frame hold their adjustment very well.
ULTEM - The lightest and most flexible frame material made. Durable, hypoallergenic, and eco-friendly.
Special Features: If you are looking for something special like Rhinestones, Clip-on Shades, Brow Bars, etc, then start here.
The other search filters are pretty obvious. Take your time and have fun shopping!
HOW TO BUY PRESCRIPTION GLASSES
We offer single vision prescription lenses right on the frame page. As above, first, find a frame. To buy the frame with prescription lenses, click the Configure Lenses button next to 'Prescription Lenses'. Prescription lenses are only $10.00 additional.
We also offer specialized prescription multi-focals and digital lenses that go beyond basic stock lens offerings. Progressives, special single vision lenses with advanced blue block options, and more...
For Details Go Here: Rx Lenses
OTHER STUFF
REWARDS PROGRAM - Set up an account and get $5.00 Off your first order! Click the green Rewards Program tab at the bottom for your screen and set up an account. We will send you an email with a link to unlock a $5.00 rewards coupon. The more you buy over time the more you save! LEARN MORE...
Also, there is a wealth of information on our site about our products and product options.
See PRODUCT INFO or RX LENSES for details and links.
We also offer a selection of Budget BluBlock Readers that have limited power and lenses options.