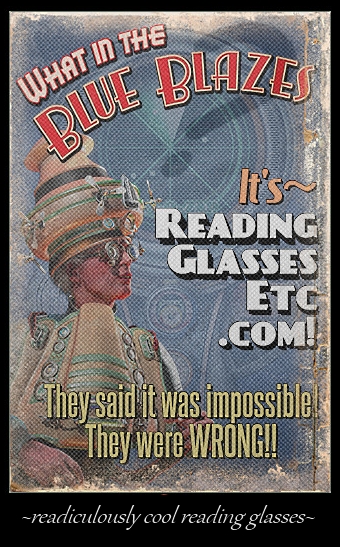 About Reading Glasses Etc - Who We Are
By Steve Mower, Optician, Owner, Reading Glasses Etc,LLC
Reading Glasses ETC is a small on-line business in Northern Virginia consisting of myself, Steve Mower, and my wife Rhonda Mower. We do not have a brick and mortar store. I run the day-to-day operation of ReadingGlassesEtc and Rhonda contributes her talents by helping me to select frames styles and in product development and marketing.
Steve - In 1986 I started working in the optical field and got licensed as an Optician (Virginia). Back in those olden times, Opticians were educated and trained to do everything related to making and fitting eyeglasses. I was fortunate in that every person I worked with was a licensed Optician. (In these modern times, retail optical stores have one Optician on site at any given time.) I guess you could consider me "old school".
During the many years I was in optical retail, I managed several privately owned optical franchises in Northern Virginia. The eyewear we provided in these stores ran from the simple and affordable to ultra high-end custom eyeglasses. I was one of the first Opticians in Northern Virginia to offer and produce custom rimless eyewear. I have worked in every facet of eyeglass production from surfacing to finishing to marketing and management. I left the optical retail industry in late 2012 to finish developing ReadingGlassesEtc.com which I started in 2010.
In 2013 I began developing a line of blue block tinted lenses. Working with experts in the optical industry, Research Scientists, Optometrists, and Lens Filter Specialists, I have created a line of tints that are designed to filter damaging blue light while allowing beneficial light through to the wearer's eyes. My goals were to create lens tints that looked nice cosmetically, were very comfortable to see through, and provided maximum UV/Blue Light/HEV protection for today's computer users.
Rhonda - is the Vice President for Diversity, Equity, and Inclusion at Volunteers of America which is the third largest charity organization in America. Rhonda has a lot of experience in multiple fields including retail, and strategy work at some of the biggest companies in America. Her current work is timely, challenging, and rewarding.
As a small company we like to support other small and privately owned businesses like our frame and lens suppliers. We have grown tired of throwing lots of money to monopolies like Google and Facebook for advertising so we have stopped doing it. As a matter of fact we are now off Facebook. We don't like social media in general. We don't have time and when we want to talk to friends and family we just e-mail them or pick up the phone. (Old school, know.)
Organizations and Causes That We Support - Married for almost 20 years, we are a mixed race couple with a very multi-cultural family. Our extended families consists of African American, White, Hispanic, and Asian members. We support organizations that work to promote positive change in the United States and abroad. Among the many are: Black Lives Matter, The Opportunity Agenda, ACLU - Right to Vote, The USPS.
Thanks for visiting! While you are here, check out our Fun Stuff pages! Funny top 10 lists, memes and such related to first time reading glasses wearers.