Posted by Steve Mower on 19th Oct 2020
Anti-Reflective (AR) coatings cut the glare and look much nicer than non coated lenses.
Updated February 4, 2021 to include new lens information.
Updated March 16, 2021 to include a new lens and new pricing information.
More and more people are using ZOOM for meetings and if you are one of them you may have noticed that some eyeglass wearers have very reflective lenses. You may have non AR lenses as well.
Anti-Reflective or Non-Glare lenses have a coating that pulls more light through the lenses to your eyes. A non-AR lens will typically reflect of about 20% of the light hitting the lens surface. This causes unwanted reflections that look unsightly and distracting. Here is a Non-AR vs AR comparison:
AR coatings not only look nicer they also provide better vision because you get more light and less reflections. The AR coatings we offer also have a hydrophobic coating that makes the lenses easier to clean and easier to keep clean.
BluBlock AR Coatings work the same way as the standard AR coatings but they reflect off about 20% of HEV blue light. At certain angles the coating can be seen to reflect off blue light like this: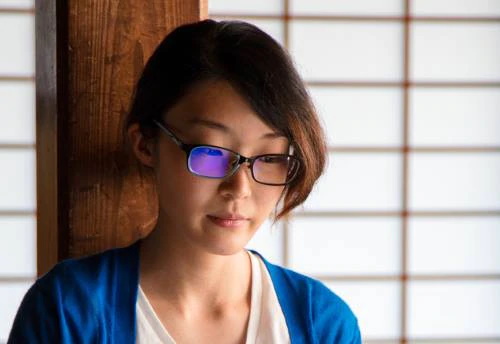 Whether you wear glasses for reading, computer, or distance, anti-reflective coatings give you better vision, a more appealing look, and in the case of BluBlock AR lenses, protect your vision.
We offer several types of AR lenses, all of which are very affordable add-ons. These coatings are available on our reader lenses and prescription single vision lenses. (Polycarbonate reader lenses are included with the frame. Rx lenses are only $10.00 more.)
Mojo Standard AR is our standard, non-blublock anti-reflective coating. A $15.00 lens option.
Mojo BluBlock AR is also only $15.00
APEX BluBlock AR-T is a BluBlock AR coating with the addition of a very light amber tint. A $20.00 lens option.
Zenspex 1.6 BluBlock AR is a high index lens with a blue filter built in. The combination of the blue filter monomer and a blue light reflecting AR coating results in more effective blue light protection and they are thinner. A$50.00 lens option.
Kodak Total Blue 1.6 AR lenses are the best single vision BluBlock AR coated lenses available today. A $80.00 lens option. We have a special running for KTB lenses. Buy a pair with Kodak Total Blue AR and get our free care kit and 500 free reward points good for a future purchase. More here.
New! Crizal Rock (Blue Capture) AR (formerly Blue Capture Avance AR) Lenses. Blue filter lenses with a standard AR coating. These are Essilor lenses with a premium scratch resistant AR coating. HEV protection without the blue flash reflections. A $100.00 lens option.(Was $120.00) More here.
New! Mojo BluFilter Standard AR. These lenses work the same as the Crizal Rock but they 1. Have a regular AR coating that is the same scratch resistance as our other coatings, and 2. It's half the price at $50.00!
Read all about our Anti-Reflective lens options.
Steve Mower is a Licensed Optician, owner of ReadingGlassesEtc.com, and creator of Mojo BluBlock Tints. Steve has over 30 years experience in the optical field. He has been a optical retail manager and has consulted on progressive lens development. Steve has been offering unique reading glasses and prescription eyewear on-line since 2010.