Posted by Steve Mower on 20th Apr 2018
As promised we have updated our frame pages to allow for selecting different lens types! Since our inception back in 2010 we have tried to accommodate the demand for alternative lens types in various ways. If you wanted bifocal reading lenses for example, you had to find a frame and then go to a separate page to add the lenses. What a hassle! No longer! Different lens types are now available right on the frame page.
Here are the changes and some shopping tips. First, use our frame filter! The 'Style' filter will help narrow your search. There are 5 frame styles;
Full Rim - All Reader Lenses, Bifocals, and Prescription Single Vision Lenses.
Rimless - Custom Rimless frames limited to Reader Lenses only.
Semi-Rimless - Limited to Reader Lenses and Prescription Single Vision Lenses.
Slim/Half Eye/Folding - All Reading and Prescription Single Vision Lenses.
Sunglass Frames - Available with Bifocal Reading Lenses.
Here are what the lens options look like on a Full Rim frame page: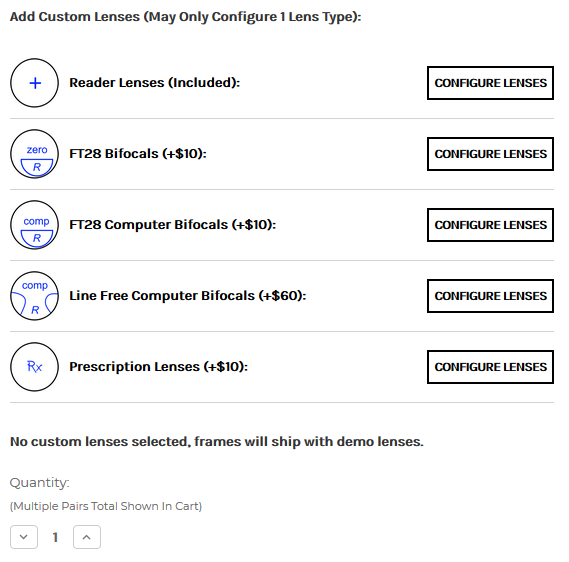 As you can see, with 'Full Rim' frames all of the lens types are shown. Clicking the Configure Lenses button allows you to choose the lens powers and options for the lenses you want.
Frames like 'Slim/Half-eye/Folding' aren't deep enough for bifocal lenses so those lens types won't show up.
Buying Tips:
Want Bifocals or Computer Bifocals? Select 'Full-Rim' in the Style section of our frame filter and narrow your frame choice from there.
Want to buy the frame without lenses? - Don't configure any lens. Select the quantity and add to cart. The frames will be shipped with the original demo lenses as well as the case, cloth and cleaner we normally send.
Mojo Std AR - There is one other update. We now offer Mojo Std AR as a lens option. Mojo Std AR is an anti-reflective coating that is scratch resistant and has a easy-to-clean hydrophobic coating. It is very clear. Unlike our Mojo BluBlock AR and other blue light reflecting AR coatings, this lens pulls up to 99.5% of light through the lenses to your eyes. It does not block, reflect, or filter blue light.
Other than these changes everything is the same. Same great selection, same unique lens options, and same prices!