Posted by Steve Mower on 28th Oct 2020
Titanium, hypoallergenic, weighs only 3 grams! Customize your lens shape and lens size!
Simplylite frames are titanium rimless frames that only weigh 3 grams! If you like light-weight glasses then you can't do better than these. Plus, you can customize your glasses by selecting from many lens shapes and by choosing the lens size that you need. There are lens options like AR Coatings (Anti-Reflective) that make the lenses pretty much disappear. Hate those reflections from your lenses in those ZOOM meeting? Get an AR coating!
About the frames:
Compression mount rimless. (no screws to loosen.)
Light weight 100% titanium
Weighs only 3 grams. (the lenses add a bit of weight)
Hypoallergenic, nickel free.
18mm Bridge with adjustable silicon nose pads.
140mm Hinged temples. They fold up and fit into a light-weight hard case.
700 Series is thin and flexible and available in 7 colors.
800 Series is more rigid and available in 7 colors.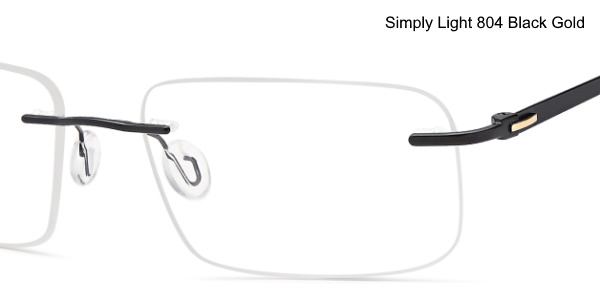 The Lenses:
You can get these frames either with Reader lenses or with No-Line Progressive Reader lenses.
The Reader Series is priced at $139.00, which is $60.00 less than MSRP!
Aspheric Polycarbonate lenses are included.
You can get lens powers from Zero to +4.00 in either eye.
There are many lens options including Mojo Standard AR, BluBlock AR Coatings, Tints, and Photochromic AR.
There are 28 lens shapes to choose from including half-eye shapes.
The lens size can be from 46mm to 56mm.
The Progressive Series is priced at $199.00 and includes...
Polycarbonate No-Line Progressive Reader Lenses.
The lens powers can be zero on top, or with a computer power on top, and reading power in the bottom.
Lens options include Mojo Standard AR or Photochromic AR.
There are 24 lens shapes to choose from. (Not included are half-eye shapes.)
The lens size can be from 48mm to 55mm.
Simplylite FAQ
Q: How do I determine the lens size I need?
A: Go here to learn about Frame Sizing. There is info on frame fit and optical frame measurements.
Q: Can I get prescription lenses in the Simplylite frames?
A: Most likely, yes. It depends on your particular prescription and what lens type you want. Send your Rx to us and we will provide advice on whether we can do it as well as what lens options there are.
Q: If I don't like the glasses after I get them can I return them?
A: Yes you can. We can do a one time replacement by remaking the lens size and shape and power for free. We even pay for the return shipping. We don't offer refunds on the custom rimless glasses so it pays to be careful in choosing what you want in the first place. You can always ask us about these things in advance. we are happy to help! Contact Us with your questions!
Steve Mower is a Licensed Optician, owner of ReadingGlassesEtc.com, and creator of Mojo BluBlock Tints. Steve has over 30 years experience in the optical field. He has been a optical retail manager and has consulted on progressive lens development. Steve has been offering unique reading glasses and prescription eyewear on-line since 2010.