Posted by Steve and Rhonda Mower on 28th Jun 2015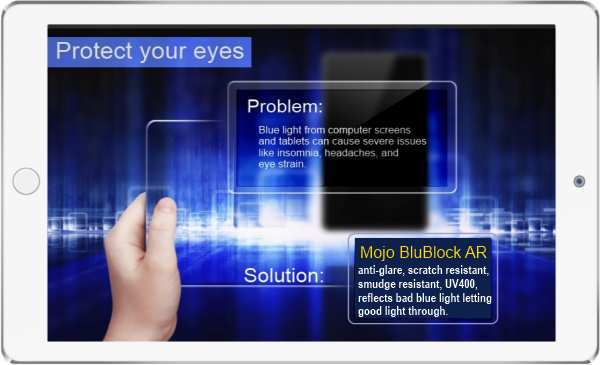 Did you know that ReadingGlassesEtc was the first site on the internet (or anywhere, as far as we know) to offer blue block reading glasses? It's true! As of this post, most of the so called "blue-block-readers" products available online are not readers. They do not have magnification powers in the lenses.
Early in 2014 we introduced our Mojo BluBlock Tint options and shortly thereafter we came out with our premium Mojo BluBlock AR coating. Recognizing the need for blue block reading solutions we replaced and expanded our standard non-blue block tints with our innovative blue block amber, brown, and grey tints and replaced our standard AR coating with our premium Mojo BluBlock AR on all of our single vision readers.
Recently we have been seeing other, very cheap, blue block readers available on the intertubes (They are still very rare). Some are a direct knock-off of what we have been offering here for some time. The products we have evaluated are basically disposable readers. Massed produced at very low cost and offered for cheap. The biggest quality difference is the lack thereof. Plastic and acrylic lenses and bad coatings do not fit with our standards of "quality".
Rhonda and I expected this development, and on a certain level we feel, well, complimented by it. Imitation is the highest form of flattery I guess. It's the cheap and disposable part we don't care for.
Prescription quality frames, lenses, and coatings are what we are about. Custom crafted and prescription options too. We have never been interested in selling junk in the big box stores. We are not going to race to the bottom.
Comparative pricing. I would recommend anyone out there interested in getting prescription quality blue block anti-reflective reading (or any single vision) lenses, to call your local optical store and ask for "aspheric polycarbonate lenses with blue blocking anti-reflective coating." Get a quote.
One of our customers (thanks!) recently sent me a quote for Zeiss DuraVision Blue Protect polycarbonate lenses for reading from her doctor's office for $399.00 per pair (Prices may vary, but...). That is just for the lenses, not the frames. Our Mojo BluBlock AR lenses have all of the same features and they are a $25.00 add-on.
If you want real quality, shop and compare, is all we're saying.
Read more about our innovative blue block solutions.