Now you can get low power reading glasses without the prescription prices!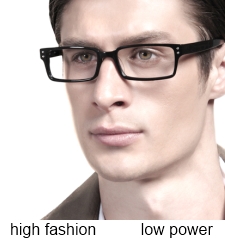 Just because you happen to need low power reading glasses doesn't mean you should have to pay for prescription glasses. While every premade reader we have seen starts at +1.00 or +1.25 you can now get readers from zero, +.25, +.50, and +.75 in either eye. It's one of the things that makes us special!
That little bit of magnification can help, especially if you need computer readers or need a mix of powers in each eye like, R+.50 and L+1.25 for example. For those of you that had a choice between buying premades that were too strong for you or paying big bucks for prescription glasses, those days are over!
Tip for finding low power reading glasses- There are some styles of pre-made readers that we carry that come in limited powers but the vast majority of styles that what we offer are available in a full range of powers, from zero to +4.00 in either eye. Any time that you see a choice of powers for right and left eye, you can choose low powers.
Need strong reading glasses? Go here.