Posted by Steve Mower on 24th Jan 2015
We have made it easier than ever to purchase prescription eyeglasses here at ReadingGlassesEtc.com!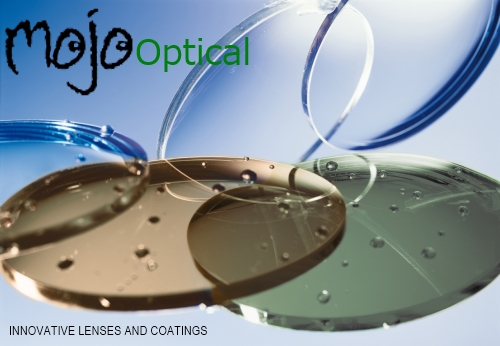 Our Mojo prescription eyeglass lenses come in a variety of materials and a wide range of single vision powers for reading, intermediate, or distance vision correction.
Our Innovative Mojo Optical Lens Types:
MojoPoly Clear Lenses - Polycarbonate for only $10.00! MojoAR anti-reflective coating optional.
MojoPoly BluBlock AR - Polycarbonate with Mojo BluBlock AR anti-reflective coating.
Mojo1.60 BluBlock AR - 1.60 high index lenses with Mojo BluBlock AR anti-reflective coating.
Mojo Tinted Lenses - MojoPoly lenses with 3 Blue Block tints or 2 cosmetic tints in 4 tint depths.
Mojo Photochromic Lenses - Photochromic grey lenses in polycarbonate with optional AR coating.
Mojo Polar Polarized Sunglass Lenses - Polarized polycarbonate lenses in grey or brown with back-side AR coating optional.
Find Out How:
Click the 'Rx' button on the top right navigation menu or click here for instructions on how to get prescription lenses in our great frames. (Note: we cannot make Rx lenses for pre-made readers.)
About Mojo Optical:
Rhonda and I started Mojo Optical to offer high quality prescription lenses with our innovative lens coatings and tints. Our frame selection at MojoOptical.com is similar to what you see here at ReadingGlassesEtc.com.
We believe that by offering prescription options here offers advantages:
One stop shopping. You can get both Rx glasses and readers on the same site.
One account. One log-in.
Opening (or having) an account here has benefits. As opposed to checking out as a guest, open an account. You can view your order history and take advantage of our RGE Rewards Program where you automatically accrue points on your purchases, whether Rx or reading glasses, to future purchases.
Having an account allows you to upload your Rx and PD have it stored in your account.
You can open an account at check-out or by clicking the tab at the bottom left of the website or at the very top.