Posted by Steve Mower on 23rd May 2017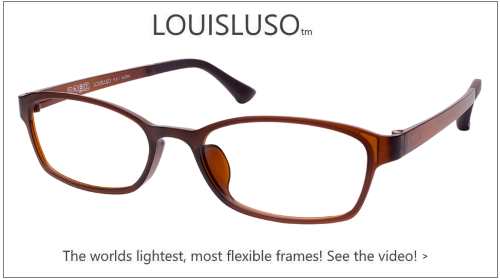 Since we introduced the LOUIS LUSO line we have had major problems keeping up with demand. Happily, we now deal directly with the manufacturer, and are getting orders in to us within 2 to 3 days as opposed to 2 to 5 weeks!
LOUIS LUSO frames are hand made Ultem. Ultem is extremely light in weight and very flexible. It is also hypoallergenic. I wear a pair as sunglasses and Rhonda has a regular pair and a sunglass pair, and we cant get over how light they are!
There are very thin styles, sporty styles, styles with 'UF' nose pads which work great for folks with flatter bridges, and even styles with adjustable nose pads.
LOUIS LUSO frames weigh less than titanium. If you do not like wearing eyeglasses because of the weight, these are for you. Also, they are extremely flexible. This is great for any glasses, but especially for reading glasses which take a lot of abuse.
They are priced at $159.00/pair, which is at our high end, but you will love them and they will last a long time!
Available with all of our lens options.
Single vision prescription lenses for only $10.00 more.
Free case, cloth, cleaner and shipping (within the US).