Posted by Steve Mower on 17th Mar 2020
How to keep your eyeglasses really clean in these viral times.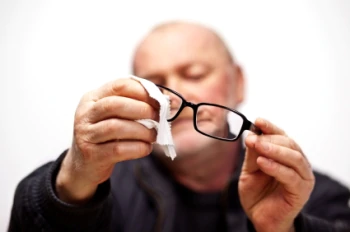 Hopefully by now with the Covid 19 outbreak you are aware of about how many times you touch your face daily. The average is about 23 times per hour! How many times do you touch your glasses? So to avoid contracting and spreading germs it is advisable to wash our hands more thoroughly and more often. If you are a eyeglass wearer you need to clean your glasses more often too.
Cleaning glasses is pretty simple. Wash your hands. Then run your eyeglasses under some warm water. Add a small drop of dish soap to your fingers and gently wipe the soap on your lenses and frame. Rinse thoroughly and dry with a soft, clean, microfiber cloth. Soap actually works the best against viruses including the Corona Virus.
Every so often you can use 70% isopropyl alcohol. Wet a soft tissue with the alcohol and clean the lenses and frame. this works really well but I don't recommend it as a daily method as over time it can effect the frame finish.
Do not use isopropyl solutions over 70% as it can possibly damage AR coatings. Don't use harsh cleaners like widow cleaners, harsh soaps and things like bleach. Soaps with moisturizers don't work well and can leave residue.
Most eyeglass cleaners (the spray bottle variety) are designed to be effective and safe. Our cleaner is VOC free and eco-friendly. Spray a little cleaner on each side of the lenses and dry with a microfiber cloth or soft, lint-free tissue paper.
Use the microfiber cloth to spot clean your glasses during the day. When you do your laundry, throw the microfiber cloth in!
Shopping for eyeglass frames: If you go to a eyeglass store and try on frames you might want to ask the Optician to clean the frames for you before you try them on. Most stores regularly clean the smudges off of the lenses but not the entire frame. If you purchase from them you can ask them to provide you with a brand new frame rather than the floor model.
Ordering online is better as far as being exposed to other peoples' germs. When we make glasses we clean each pair thoroughly with a mix of water, soap, and isopropyl alcohol. Then we put them into the original poly bags they ship to us in and package them to ship. Also, we don't re-sell tried on frames. We return them to the manufacturer. Each pair ships with our eyeglass cleaner and a cleaning cloth.
Update 4/9/2020: Our home and lab is kept very clean. We have no employees so it's just the 2 of us. All of our products are fully sanitized before shipping. Not only are they cleaned thoroughly with alcohol but they also sit under a powerful UV lamp for 30 minutes before going out the door. Before I was an Optician I worked in a biology research lab making and testing tissue culture media. I worked in a controlled, sterile environment and know a lot about sterile handling techniques. -Steve
Keep it clean people!
Steve Mower is a Licensed Optician, owner of ReadingGlassesEtc.com, and creator of Mojo BluBlock Tints. Steve has over 30 years experience in the optical field. He has been a optical retail manager and has consulted on progressive lens development. Steve has been offering unique reading glasses solutions on-line since 2010.