Mojo GP Computer Progressive Reading Lenses - No line! CR39 resin. Available to purchase in combination with in all of our full rim frames.
These lenses have half your reading power in the top of the lens and your up close reading power below. There is no line. The progressive transition is about 4 times wider than regular progressives!
PD Measurement - For optimal results we require your PD measurement.
If you know it you can include it by typing it in the comments section at check out.
If you do not know your PD we can take

it remotely

. Choose that option and we will send you instructions and e-mail.
Select your Up-close Reading Power.
REQUIRED: FIND A FULL RIM FRAME AND ADD IT TO YOUR CART.
You can choose any FULL-RIM FRAME. (No rimless or semi-rimless styles.) What you want to do is add a frame only to your cart and then add the lenses.
SELECT ZERO POWER FOR EACH EYE AND NO LENS OPTIONS.
ADD THE FRAME TO YOUR CART.
COME HERE AND ADD THE LENSES TO YOUR CART.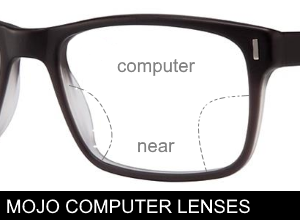 Lens options:
Clear no options $60.00 Default
Lens Tint +$10.00