Posted by Steve Mower on 24th Jul 2019
Glasses, Fit-Overs, Book Lights and more!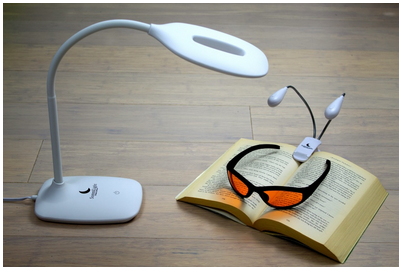 SomniLight makes a range of products designed to help you read more comfortably and go to sleep faster.
There are 2 desk lamps, a multi-phase lamp and an amber lamp, as well as a amber book-light and red night lights.
They also offer several glasses that help with insomnia issues and migraine mitigation.
For a limited time you can get 10% of any SomniLight product.
Also, if you order over $200.00 in glasses from us, we will send you a Amber Book-light for free! A $39.99 value!
See the SomniLight Therapy Products here.
Steve Mower is a licensed dispensing Optician and creator of Mojo BluBlock Tints. Steve has over 30 years experience in the optical field. He has been a optical retail manager and has consulted on progressive lens development. Steve has been offering unique reading glasses solutions on-line since 2010. Steve is a member of Opticians Association of Virginia and Opticians Association of America.